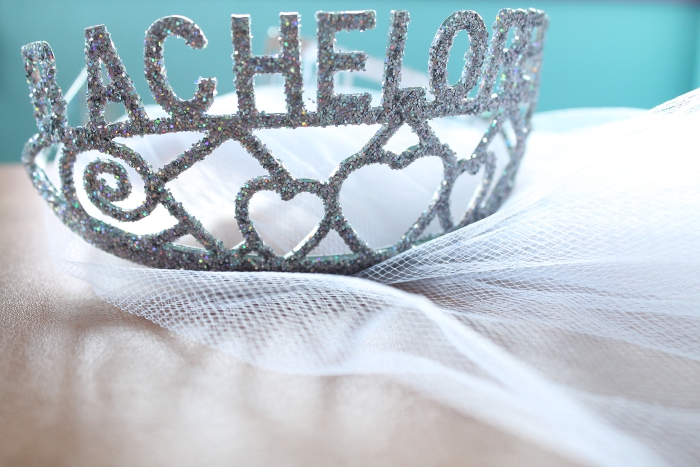 I received this bachelorette party tiara with veil at no cost in order to try it on and review it!
I have always loved tiaras. I'm all about the sparkles and rhinestones, so it makes sense! I plan on wearing one with my wedding dress, and I'd like to find some tiaras to match my bridesmaids' dresses, too! So when Bachelorette Superstore reached out to me and asked if I'd like to receive their sparkly "Bachelorette" Tiara with veil for a review, it was an obvious choice! If the crown fits…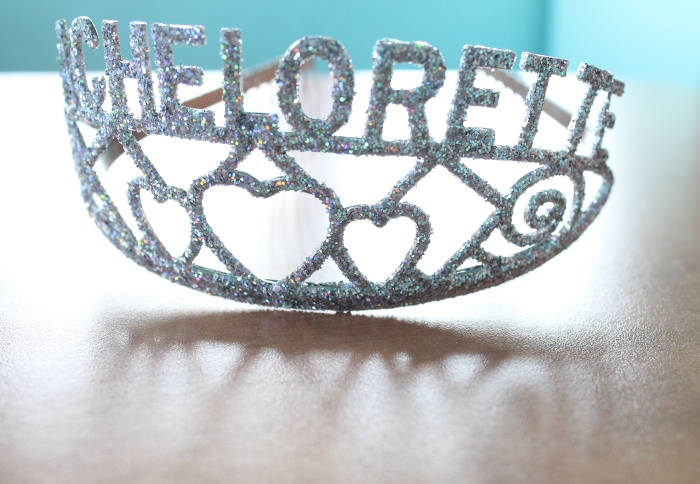 This tiara set includes two pieces: A veil attached to a plastic comb, and the tiara itself. The veil comb is cute and can be placed on your hair at the back of your head – I'll probably keep my hair in an updo when I wear this, since combs tend to slide out of my hair otherwise. The tiara is made of metal and covered in sparkly glitter, with combs on both ends to slide into your hair. It's very fun! It reminds me of wedding play sets that I had as a child. Keep in mind that the quality of this set is pretty typical as party supplies go. It's meant to be more of a toy than a royal piece of lasting jewelry, since it retails for only $14.50.
This tiara is so much fun and I can't wait to put it on for my own bachelorette party! I love props like this that are fun and girly. My only complaint is that the tiara is a little on the small side – either that, or I have a freakishly large head – and it was a bit tight and uncomfortable when I put it on. I took it off a few minutes ago and my head still feels a little uncomfortable. I'll experiment with positioning it on my head when party time rolls around, but I imagine this will be more of a "Photo op" piece than something that I'll keep on all night.
For more bachelorette party supplies from sashes to party invites, check out BacheloretteSuperstore.com! They have quite a mix of supplies, from fun and girly to naughty and outrageous, so you've been warned if you're at work.