This is a sponsored post written by me on behalf of Jewelers Mutual Insurance for IZEA. All opinions are 100% mine.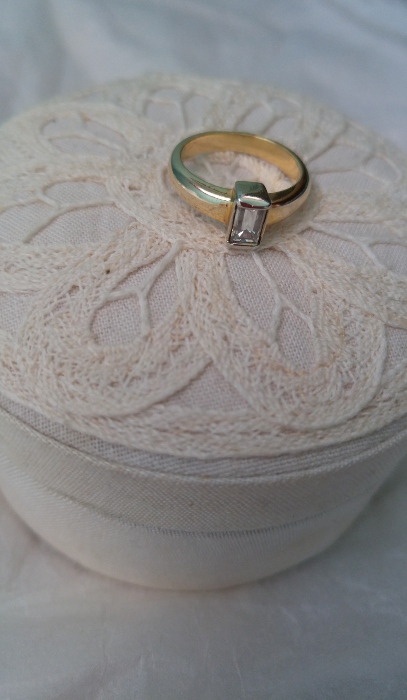 As I write this, I am exactly one week away from my wedding! It's hard to believe that the day that has been in the works for so long and dreamed about since I was a child is just 7 days away. Wedding planning is a true whirlwind, so it's important to steal a moment away from spreadsheets and to-do lists to remember why you're getting married in the first place! So this morning, I am reminiscing about the day that we got engaged.
We consider New Year's Day to be our "anniversary", since it was after a friend's NYE party that Jai and I realized we were a perfect match. Because of this, Jai knew that he wanted to propose over New Year's. The year that we got engaged, we were spending New Year's Eve together at home – just the two of us relaxing, enjoying dinner and talking about our future. Jai then told me that I should play a round of World of Warcraft with him, so I logged on to my computer.
When I got into the game, Jai had created his own customized quest with personal messages to me. My character was led to a treasure chest and when I clicked on it, it revealed a ring and the message: Will you marry me? I stood up from the computer and hugged him in real life while crying happy tears!
The next morning, we went over to his grandma's house to tell her the happy news. We made conversation while she and her daughter were taking the Christmas tree down, and then casually said, "Oh, by the way, we got engaged last night." Jai timed this for when they had put the Christmas ornaments down so that they wouldn't drop them in their excitement as they screamed and jumped up!
Back in the 1980s, Grandma used to run a jewelry store, and still had some nice rings in her safe deposit box at the time of our engagement that were leftover from her shop. So after she hugged us, she said, "I have some rings if you'd like to look at them…oh, you probably want to buy your own, though." I said that I would very much like to see her beautiful rings, and the words had barely left my mouth before Grandma was putting on her coat and excitedly hurrying out the door to the bank to bring some rings over for me to look at!
Jai had wanted to pick out the ring with me so that I could get exactly what I would like (this is pretty common these days! Learn what brides-to-be want in an engagement ring). As we looked at Grandma's rings, my eye was drawn to a beautiful 14k platinum diamond ring. It was stunning and fit my style perfectly – it was the one! We took the ring to a local jeweler to have it re-sized, and after we got back, Jai surprised me before a dinner party I was throwing by putting on a nice suit and taking me outside to propose a second time with the ring. And that's how this whole wedding adventure began!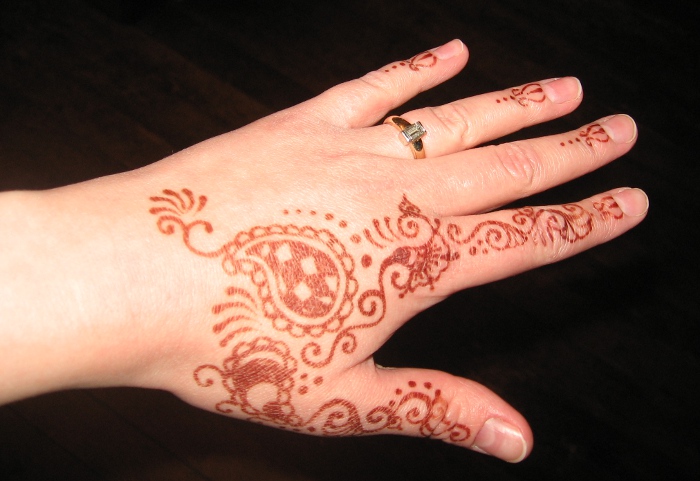 Getting some henna art to show off my ring hand after we got engaged!
I've learned so much about weddings during our engagement, especially since we're doing it DIY and I am serving as my own wedding planner. There are so many details to think about! For our wedding bands, Jai and I are both wearing heirloom rings from our respective grandparents. From getting the rings sized to finding out about spacers and how to properly clean them, I've learned quite a bit about jewelry in the last few months!
Since our rings are so meaningful to us, it's very important that we keep them safe during the chaos of the wedding day, so I've been taking a crash course on Jewelry Insurance 101. Jewelers Mutual has a lot of great advice for keeping your rings safe to give peace of mind during a sometimes-stressful time. Since they specialize in jewelry insurance, they are the experts in protecting these symbols of your love. Whether you just got engaged or are celebrating a milestone anniversary, you can Get a free jewelry insurance quote online in minutes and scratch one more item off your to-do list!
What's your proposal story? Did you get ring insurance after you got engaged? I'd love to hear about it in the comments!
The following two tabs change content below.
As a bride-to-be and blogger, I'm sharing all my inspiration as I Blog My Wedding! From frugal wedding tips and DIY bridal crafts to classy bachelorette party ideas, you'll find nothing but the most "Engaging" reviews here!
Latest posts by Beeb Ashcroft (see all)