Sponsored post.
There are oh-so-many details to think about when planning your wedding; it's so unlike any party or event that I've ever planned before! There are so many aspects and traditions to consider that you wouldn't normally think about in any other situation. One of the logistics you'll have to consider is transportation: How will you and your groom arrive at the venue, and what will you make your "Getaway" in after the ceremony is over?
We were very fortunate that Best Man Nathan offered his beautiful, fully restored 1961 Lincoln Continental for us to use as our getaway car for our August wedding. Not only was it a load of fun to spin around town in, but it made such a fun conversation piece during the wedding – the guests clamored around to look at it, and our photographer loved shooting it – the car made a perfect backdrop for what would become some of our favorite wedding photos! Fun fact: This is also the same car that Maroon 5 used in their famous wedding-crashing video for "Sugar" – how perfect is that?!
Now, when it came to the nuts and bolts of packing and transporting the many, many, many boxes of items for our 100% DIY wedding, practicality reigned supreme as we made use of our good old Chevy truck to haul everything out of the venue. Hint: If you're doing a DIY wedding, a truck is pretty much a necessity in my opinion! By having a "Fun" getaway car for the ceremony combined with a "Practical" truck for moving everything around, we covered all our bases. And we had fun decorating our truck too!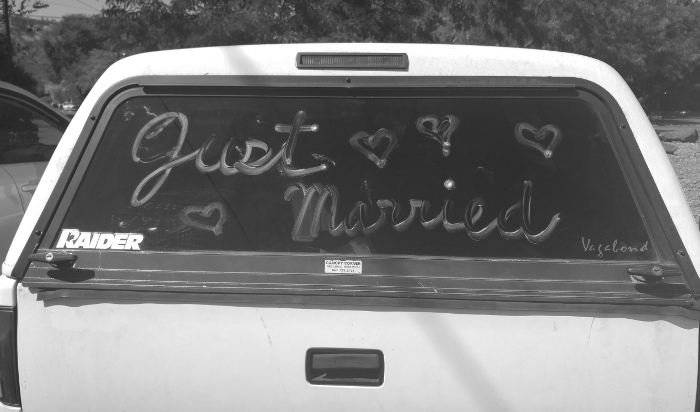 The best advice for making sure everything runs as smoothly as possible at your wedding is to really visualize everything. Where are you driving to the venue from? Will you go with your groom, or separately? What are you transporting to the venue? Who is helping you? How do you want to make your "Big getaway" at the end? Are you into vintage cars like us, or have you always dreamed of rolling up to the chapel in a stretch limo or hummer? Thinking this through and having a plan will help you out a lot during the big day.
You can best prepare for the big day by doing a little research on the type of vehicles you're thinking about using during the wedding. Cars.com is a great resource for information on every type of vehicle, from luxury, make-a-statement cars like Rolls-Royce to practical work horses such as a Ford F-150. The website gives you detailed information about popular vehicles, taking you inside and out to point out selling points and practical limitations. For example, if you thought a zippy little sports car might be cute for your grand entrance, a read through of Cars.com might point out that the interior would be too compact to comfortably fit your wedding dress – like I said, there are so many details with a wedding that you don't usually have to consider! So whether you're pondering what getaway car to go with, or shopping for your first vehicle together as newlyweds, Cars.com has you covered.
The following two tabs change content below.
As a bride-to-be and blogger, I'm sharing all my inspiration as I Blog My Wedding! From frugal wedding tips and DIY bridal crafts to classy bachelorette party ideas, you'll find nothing but the most "Engaging" reviews here!
Latest posts by Beeb Ashcroft (see all)