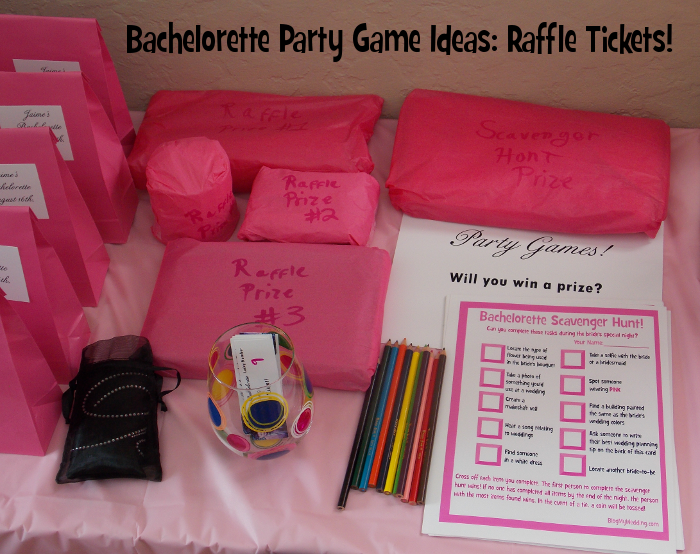 Thanks to our party sponsors for providing complimentary items to use in our raffle!
When I was planning party games for Jaime's bachelorette celebration, I knew I wanted to have an activity that would be fun, not embarrassing, and low-pressure for the guests to complete. Having elaborate or time-consuming party games doesn't always go over well, so I wanted games that would be simple and easy to opt out of if guests didn't feel like getting involved. As I brainstormed, it seemed to me like holding a fun raffle would be the perfect solution!
Bachelorette Party Game Ideas: Raffle Tickets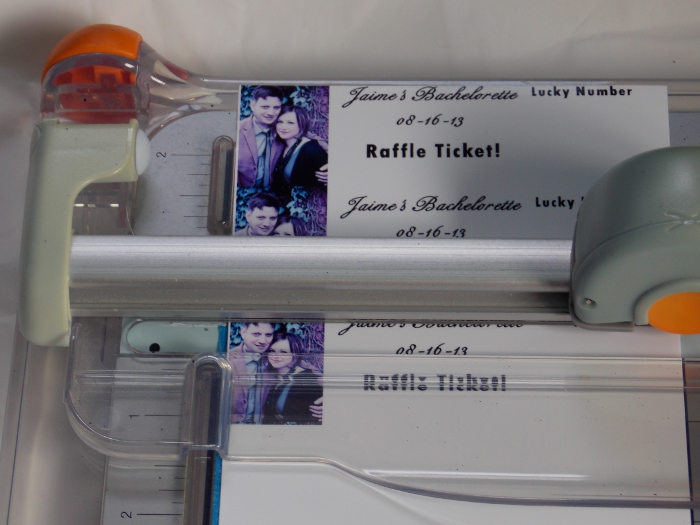 To make the tickets, I created a printable sheet on my computer using one of the bride-to-be's engagement photos. Each ticket said "Jaime's Bachelorette – Raffle Ticket" along with the date of the party. In the corner, there was a header for "Lucky Number", which I left blank. I printed out a sheet of around 12 to a page, cut them with a paper trimmer and then filled in the ticket numbers by hand. You could make this as simple as just cutting out pieces of construction paper and writing down a number, or as elaborate as using scrapbook supplies – I made printables just because that was easiest for me. I made sure there were a few more tickets than guests, just in case extra RSVPs occurred at the last minute.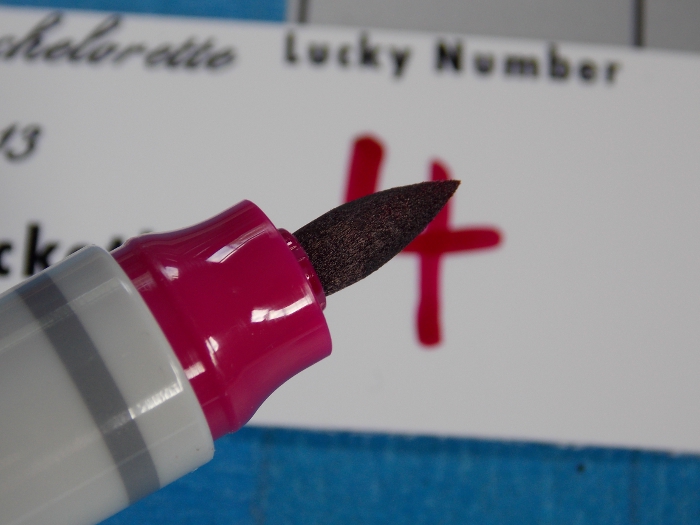 Distributing Tickets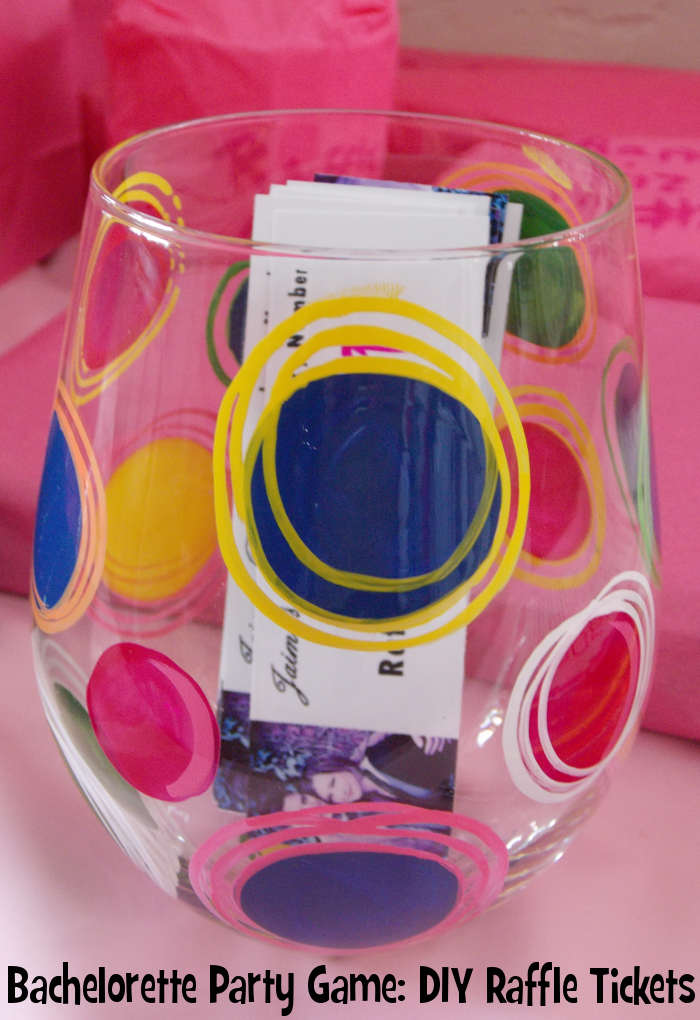 I set up a table for party games and favor bags, and I knew I wanted to have some kind of bowl to hold the tickets. In my last post, I talked about using a wine glass as a bachelorette centerpiece, and I continued this theme for the raffle tickets. This time, I used a Circles In Motion Too Stemless Wine Glass from Designs by Lolita, which was the perfect size for the raffle tickets.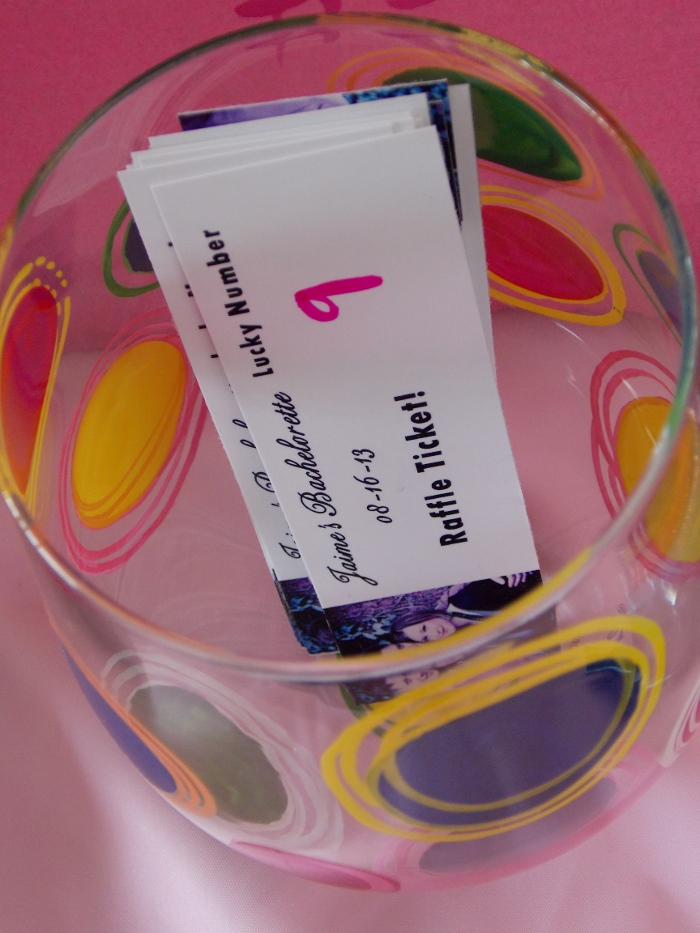 This handpainted glass is just darling, and the colors went with the party decor perfectly. I had showed the Designs by Lolita website to the bride-to-be when I was deciding which items to pick out for the party, and she had mentioned that she thought this one was really cute. After the party was over, I left the glass with her as her party gift – as I said in my last post, I think that using decor items that double as a gift is a really fun idea for bachelorette parties!
Bachelorette Prizes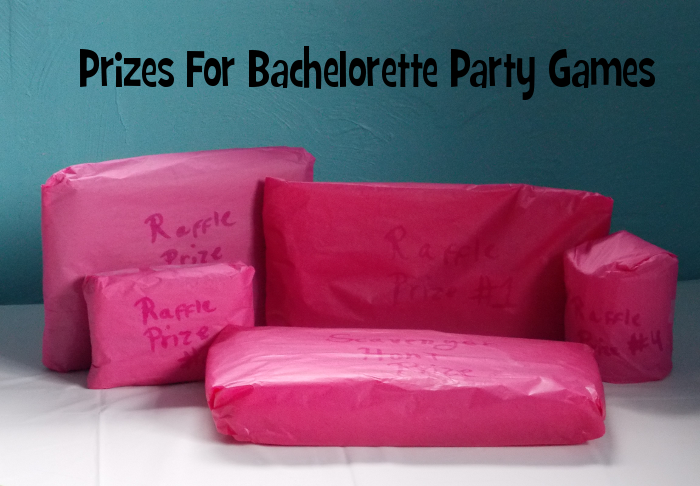 I wanted to have some fun items for raffle prizes, so I chose things that I thought would be fun to pass out at an all-girl party. I gave away a sparkly purse, a chocolate-scented candle, earrings, and a photo frame that says "Friends". What better keepsake for this kind of party than a frame that you can use to hold a photo of the fun times with friends during the bachelorette party?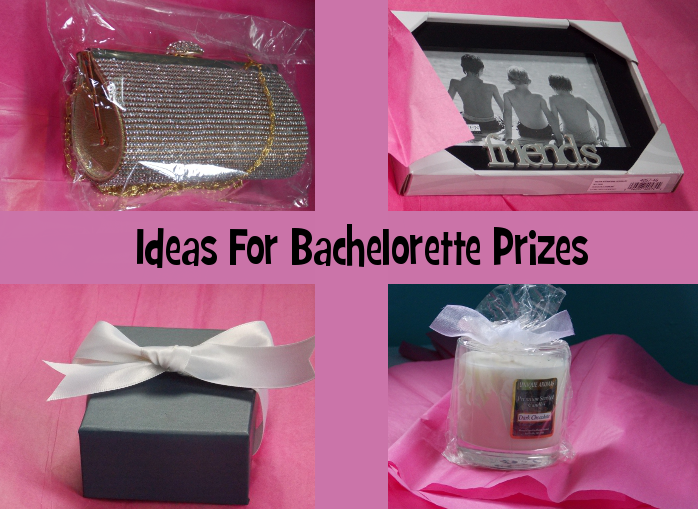 I wrapped all the prizes in pink tissue paper and labeled them: "Raffle Prize #1″, "Raffle Prize #2″, and so on. As each winner was drawn, I invited her to pick any raffle prize from the table. Which brings us to…
Drawing Winners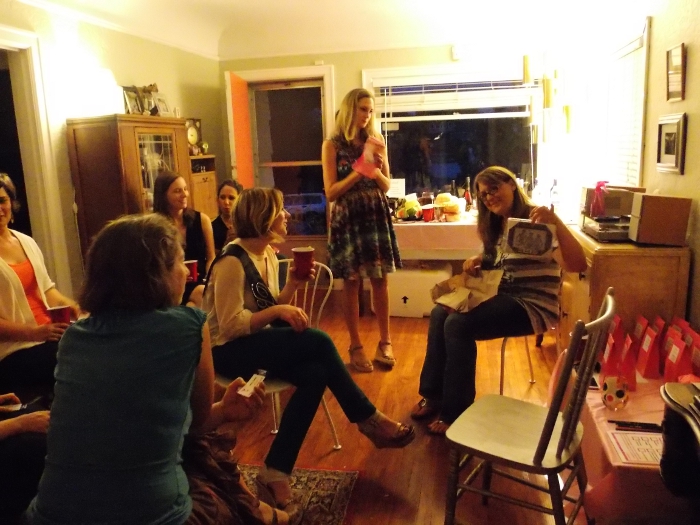 When it was time to hold the raffle, I passed the wine glass around and asked each guest to pick a ticket. I used the Fast Random Number Generator app for iPhone to pull numbers, but you could just as easily pull numbers out of a hat; just make note of how many tickets you have and pull numbers accordingly. Call out the numbers to the guests, and all they have to do is look at their tickets and see if they're a winner. Doesn't get much easier for a party game than that! The guests also loved the personalized tickets and mentioned they were keeping them as a memento, which was part of why I wanted to print tickets with the party date and photo – as a keepsake from this special time.
The raffle seemed to bit a hit – it didn't take long, the guests won some fun prizes, and everyone thought the tickets were really cute. If you want a low-pressure, easy game for your next bachelorette, I think this is a good way to go!
As a bride-to-be and blogger, I'm sharing all my inspiration as I Blog My Wedding! From frugal wedding tips and DIY bridal crafts to classy bachelorette party ideas, you'll find nothing but the most "Engaging" reviews here!
Latest posts by Beeb Ashcroft (see all)