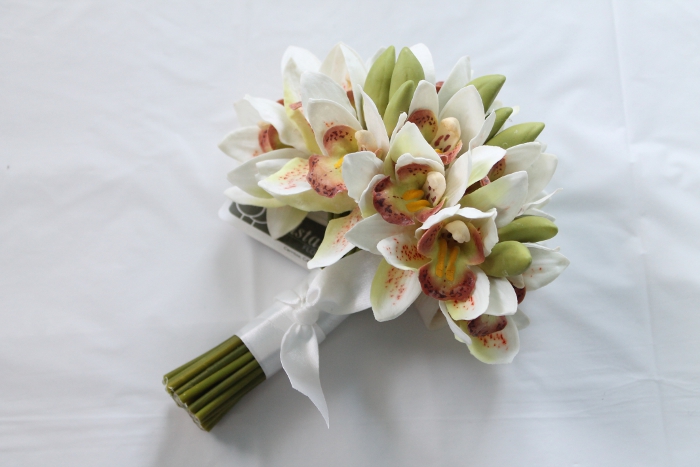 Sample product provided.
Until recently, it hadn't even occurred to me to consider artificial flowers for my wedding – but then I discovered a company called Commercial Silk. They offer a wide variety of artificial flowers, topiaries and trees for homes, offices and outdoor displays. Their subsidiary company, Silk Plants Direct, offers smaller items like centerpieces, bouquets and corsages, and I became a fan last year when I chose one of their beautiful bouquets for my bridesmaids. Now that I realized what a great option silk flowers can be, I decided to pick out my own bridal bouquet from their selection.
After looking through the bouquets and thinking about what I want my dress to look like, I decided on these Mini Cymbidium Orchid Bridal Bouquets in White Green from Silk Plants Direct. This is a pack of two bouquets that measure about 6.5″ tall. It is a more substantial bouquet than I expected, with some weight. It is small enough to just fit in my hands, giving a cute and traditional look. The flowers themselves are quite pretty – I wanted something that had a very classic look to it, and I think I succeeded here. I didn't realize just how elegant artificial flowers could be until I was introduced to this company, and I'm so glad to have found them! I love the fact that these flowers will remain as mementos after the ceremony has ended, instead of just getting thrown away – whichever lady wins the bouquet toss will have a trophy long after the wedding has ended. I'm happy with my choice and can't wait to walk down the aisle with my bouquet in hand!
The following two tabs change content below.
As a bride-to-be and blogger, I'm sharing all my inspiration as I Blog My Wedding! From frugal wedding tips and DIY bridal crafts to classy bachelorette party ideas, you'll find nothing but the most "Engaging" reviews here!
Latest posts by Beeb Ashcroft (see all)